Everything starts from within
performative dinner
Orchestrated by The PErfomrance Agency
dinner concept by Céline Pelcé&
Marente Van Der Valk
Poetry by Alex Housset
Performance by Richard Kennedy
Music by Mauro Ventura
Clothing by Lemaire
Ceramics by Atelier Maia and Tanja Neubert
2022
at Kemmler Foundation
Photo Melanie GLück
"We've all heard all about all the sticks and spears and swords, the things to bash and poke and hit with, the long, hard things, but we have not heard about the thing to put things in, the container for the thing contained.That is a new story. That is news. And yet old. Before-once you think about it, surely long before-the weapon, a late, luxurious, superfluous tool; long before the useful knife and ax, right along with the indispensable whacker, grinder, and digger- for what the use of digging up a lot of potatoes if you have nothing to log the ones you can't eat home in—with or before the tool that forces energy outward, we made the tool that brings energy home […]
If it is a human thing to do to put something you want, because it's useful, edible, or beautiful into a bag, or a basket, or a bit of rolled bark or leaf, or net woven in your own hair, or what have you, and then take it home with you, home being another, larger kind of pouch or bag, a container for people, and the, later on, you take it out and eat it, or store it up for winter in a solid container, or put it in a medicine bundle or the shrine or the museum, the holy place, the area that contains what is sacred, and then the next day you probably do much the same again — if to do that is human, if that's what it takes, then I am a human being after all. Fully, freely, gladly, for the first time."

'Everything Starts From Within' was inspired by visionary author Ursula K. Le Guin's Carrier Bag Theory of Fiction in which she elevates the container into the founding object of human civilization—the recipient, the holder, the story. The dinner concept was developed along with culinary artists Celine Pelcé and Marente Van der Valk, whose staged menu drew from the properties of the container: a meal to be offered, unwrapped, and shared.
Swedish artist Louise Waite designed a series of bread spoon casts to scoop the herbal broth opening the five-course dinner.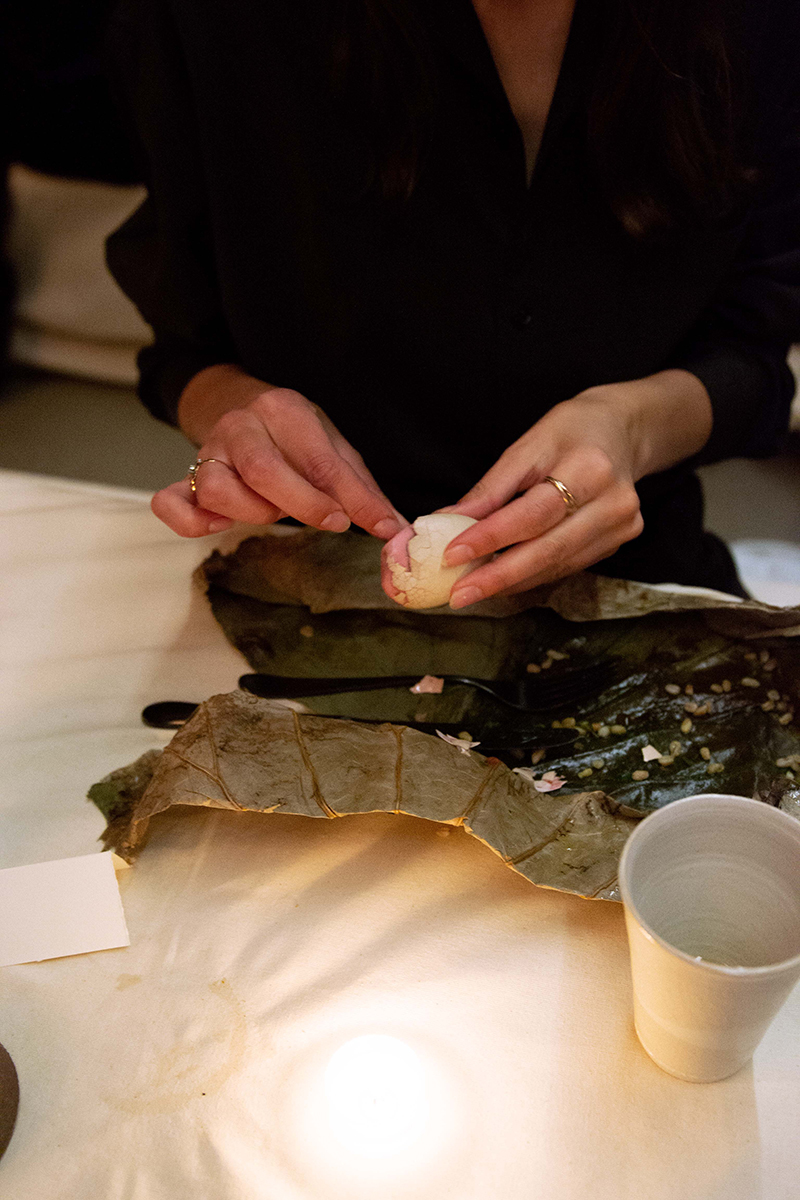 Mise en boucheSmoked nameko mushroom, miso and maple glaze, dried lilac
Sprayed thyme eau-de-vie

Herbal Broth
Aspargus, fennel and elderflower broth, buttered radishes, cherry blossom, bronze fennel tops, wraped in rice paper
Spoons by Louise Waite

Fish steamed in a lotus leaf
Charred perch, herb einkorn, braised wild greens, tarragon salsa, bergamot essence
Drops of calabrian bergamot orange

Eggs and root vegetable, woven and hung
Marbled beetroot and gochujang eggs
Roasted parsnips and heritage carrots, tamaring glazing, smoked salt, spice dust

Trou normand
Apple, raw honey and rum soked walnut sorbet
Served with homemade alexander liqueur, in beeswax cups

Dessert, hung in baskets
Apples in clay, sourcream frangipane, raw honey, bee pollen garum, flowers
homemade Nocino